Flyboarding – The Fun Way to Practice Social Distancing!
We're very good at it! In fact, we ask all of our riders to stay at least 10-15 feet away from the jet ski at ALL times! With that said, we are taking the threat of Covid-19 very seriously, and acting responsibly to take all the necessary precautions to keep our staff and customers safe.
Being as our equipment is shared by our guests, we will be taking extra steps to clean and disinfect all of our gear, including helmets, lifejackets, wetsuits, and Jet Skis, after each use. We will be allowing more time between customers to ensure this process is able to be completed thoroughly. We will also be putting forth an extra effort to clean and disinfect all of our tables, chairs & rafts, on a regular basis, and as recommended by the CDC, to keep the virus from spreading. If you are inclined to wear a mask, you will be able to keep it on until you enter the water and are a safe distance away from others.
Another step we're taking to stop the spread of Covid-19 is by allowing one scheduled group in our area at a time. Other than the people you arrive with, the only other contact will be your Certified Instructor(s), who will be practicing social distancing throughout the duration of your visit.
Our Instructors will be doing their part by submitting to daily personal health inquiries & temp checks, practicing good hygiene and hand washing / sanitizing to ensure our customers remain as safe as possible. Please respect the rule of at least 6ft social distancing while in contact with your Instructors.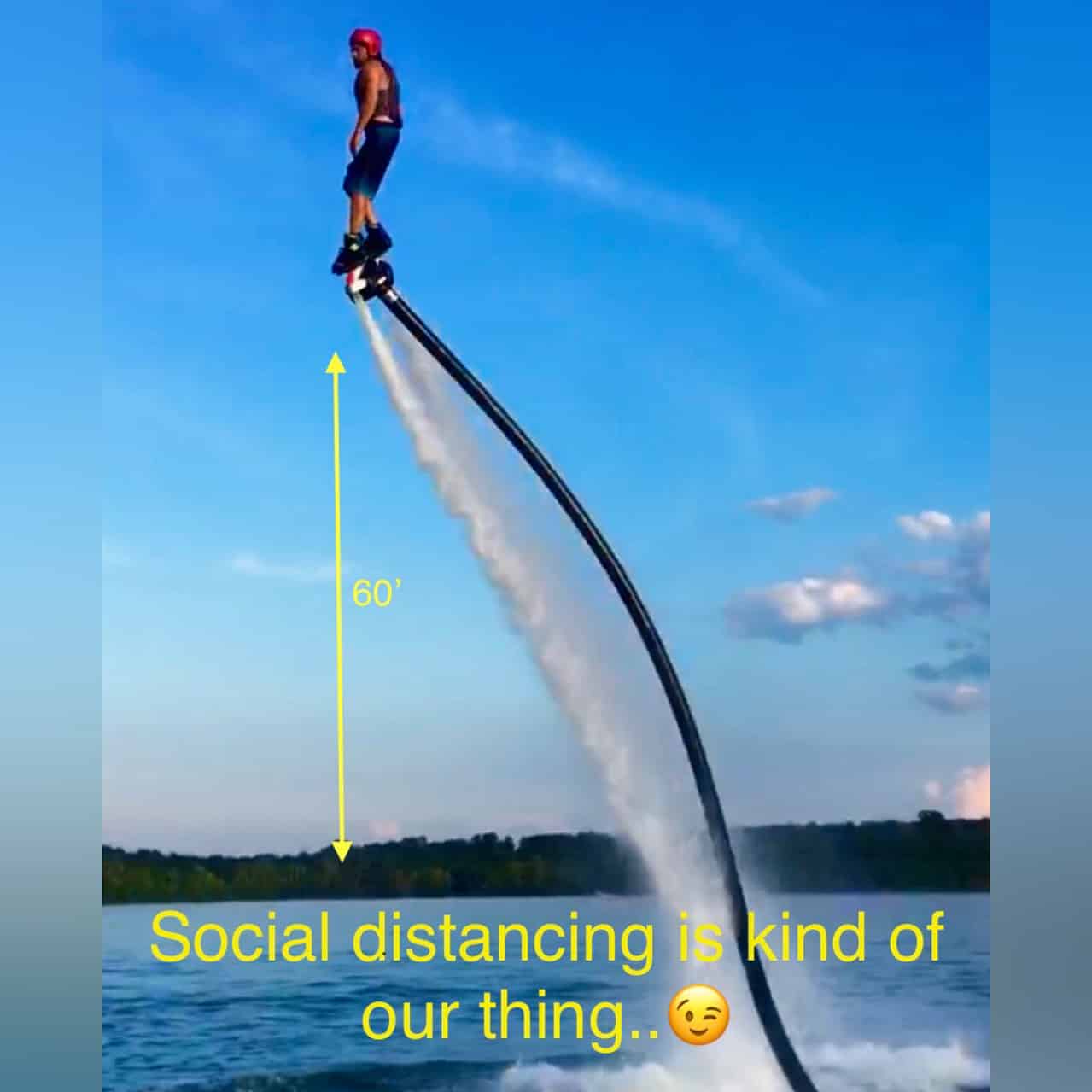 In these unsettling times, we are very grateful that our activities are performed outdoors and the threat of exposure to the Covid-19 virus is much lower than other indoor recreational businesses. Nonetheless, we are taking all necessary precautions for our staff and customers' well being, and sincerely hope you will feel comfortable visiting Nashville FlyBoard for an amazing adventure and some fun in the sun!
If you have any questions or concerns regarding Covid-19 before scheduling your session, don't hesitate to contact us at (615) 580-9030 to let us know how we can help.
If at the time of arrival, any customer feels they are at threat of exposure, they will be issued a full refund.
We look forward to the summer 2020 season, and hope to see you all out on the Lake!
Sincerely,
The Nashville FlyBoard Crew