Limited Time Holiday Offer! 20% Off All Rentals, Including Gift Cards! Use Code: NASH20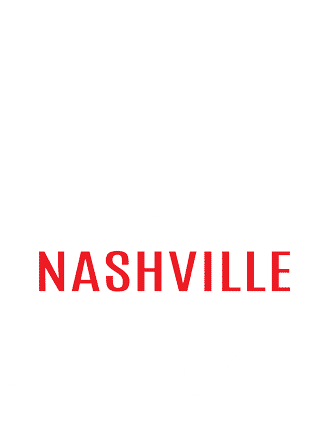 Official FlyBoard®, Hoverboard & JetPack by ZR® Sales & Rentals
BOOK NOW
SHOP
Happy Holidays From Nashville FlyBoard!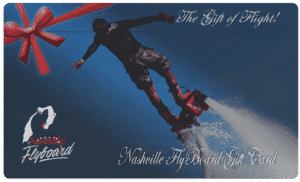 Give The Gift of Flight This Holiday Season with a Nashville FlyBoard eGift Card, or Gift Certificate! Redeemable for all activities at Nashville FlyBoard.
When you purchase an eGift Card you have to option to receive a physical Gift Card for an extra fee of $2.50, or a Gift Certificate for print. See Terms & Conditions for details. Happy Holidays!
Visit our Locations page for more information about the lakes we serve, and where they are located in relation to Nashville. Some of our areas include: Percy Priest, Old Hickory, Center Hill, Dale Hollow, Tims Ford, KY Lake, Smith Lake, Private Property & More. We are equipped to travel & serve up to 30 plus people in a day. Our crew is equipped to travel to meet you anywhere you like, from your boat, to your house. We'll check out the water conditions, and if you have a group or party, give the whole group a quick intro. Flyboarding is a prefect addition to great day on your favorite lake with family & friends!
Make an online reservation with Nashville FlyBoard. You will be quickly notified if your reservation is accepted by confirmation email or phone. Group rates always apply after 4 people, and may be reserved by calling (615) 580-9030, or by sending an email to booking@nashvilleflyboard.com. We'll come to you at the lake you choose, with top of the line latest hi tech gear, a professional Instructor, and all the safety gear you'll need, to have you flying quickly & safely. These packages start at just $100! Military & First responders can take advantage of our 15% discount.
Welcome To Nashville FlyBoard ~ Nashville's Home of The Fastest Growing, Most Exciting New Water Sports in The World!



Zapata Racing, now known as Zapata Industries and one of the most innovative companies of our time, invented a new type of water jetpack, the FlyBoard® & Hoverboard by ZR®, and introduced it to the masses, making it fun, safe & accessible for everyone. Now, Franky Zapata has invented the world's first REAL "Hoverboard" – the FlyBoard® Air!
Nashville FlyBoard is an Authorized Zapata Dealer & Offers All the Latest Available Products to Try or Buy.
Learn More About the Amazing Aviation Technology Inventions by Zapata Industries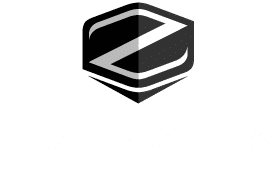 Nashville FlyBoard Fliming with Lonely Planet!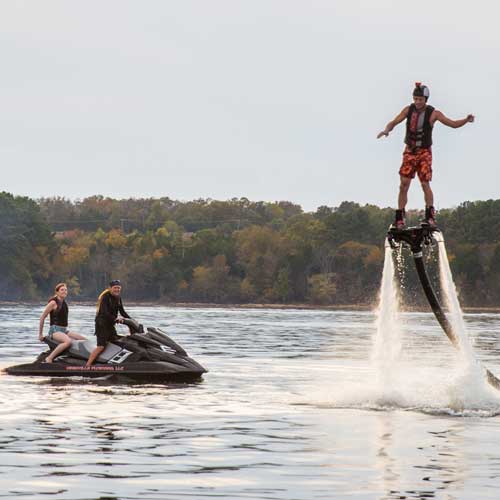 Book a FlyBoard®, Hoverboard, or JetPack Session!
Group Rates
Party Package Deals
All Types of Events
Hot Summer Lake Days
Bachelor / Bachelorette Parties, Birthdays, Family Reunions, Corporate Meetings, Team Building, Just For Fun, Media Events
Service Areas Include: Percy Priest, Center Hill Old Hickory, Tims Ford, Dale Hollow, Private Lakes, & More
Reserve Your Group Online or call (615) 580-9030 to book.
Follow Us on Facebook to Find Out Where We're at, and to Keep Up with the Latest News & Events
WavePad Rafts Now available at Nashville FlyBoard!
Voted the #1 floating raft the WavePad is the most durable floating water raft on the market. The
Wavepad water rafts have a special skin layer, which keep it apart from the "knock off" water rafts on the market today. Buy your Wavepad here, or add one to your rental. These are a "must have" for a day out on the lake!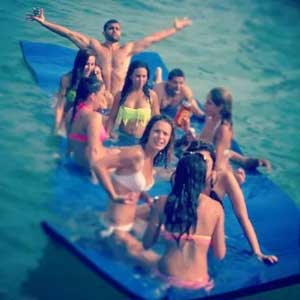 Nashville FlyBoard Service Areas