Choose Your Flight at Nashville FlyBoard
Experience the Best Outdoor Adventure in Nashville!
Book your FlyBoard experience with Real Time Availability at our Percy Priest Location, just 15 minutes from downtown Nashville! Check out our Group Package Deals to choose the best option for your Bachelor Party, Boat or Lakeside Event! 
Buy a Gift Card
Plan Your Event
Solo FlyBoard
1 Person for 40 Minutes
Includes 40 Minutes of FlyBoarding

A CPR/ First Aid Certified Profesisonal FlyBoard Instructor

Top of the Line Jet Ski to Power Your Flight

Personalized Instruction to Keep You Going Higher & Faster as You Learn Quickly, Safely Easily!

All Equipment Needed to Keep You Safe & Comfortable

Optional GoPro Add-On
FlyBoard Best Deal
Save When You Fly 2 or More
Save When You FlyBoard 2 or More People

Includes 30 Minutes of Flyboarding for Each Person for up to 4 people. See Group rates for more than 4 people.

Learn to Fly in Teams of 2. Add a 3rd Person as an Add-on at Checkout

Personalized Instruction to Keep You Going Higher & Faster as You Learn Quickly, Safely Easily!

Optional GoPro Add-on
Hoverboard or JetPack
1-2 People. Starts at
Includes The Hoverboard or Jetpack by Zapata

All Safety Gear & Equipment is Provided

Must be 18 for the Hoverboard & JetPack.

Includes Approx. 55-60 Minutes Per Person for $149 Each. Save When You Fly 2 People

Includes Additional Instruction by A Certified Professional

Optional GoPro Add-On
FlyBoard Combo
1-2 People Starts at
Includes 30 Minutes on the FlyBoard Plus an Additional 40 Minutes on  Your Choice of the Hoverboard or Jetpack.

Detailed & Thorough Instruction Will Be Provided Before, During, & After You Fly by Our Certified Professionals

Must be 18 & an Excellent Swimmer for the JetPack & Hoverboard by Zapata. Water Sports Background is Recommended.

Optional GoPro Add-On
Included with all Rentals:
Your Choice of Hydroflight Device – Zapata FlyBoard® JetPack or Hoverboard, X Jets Jetblade
Experienced, Pro Certified FlyBoard® Instructors. All of Our Instructors are CPR & First Aid Trained & Certified.
A Short Intro Lesson & Personalized Instruction Throughout Your Flight
Dependable, Top of the line Jet Skis to Power Your Device

All Safety Gear To Keep You Protected & Comfortable

GoPro Add-On, You'll Want a Keepsake!
About The Experience:
After a short intro lesson, you'll feel an exhilarating rush of adrenaline as the jet power propels you through the water, and lifts you slightly above the surface. You'll quickly and intuitively begin to maneuver the FlyBoard and be soaring above the water in no time! Each rider gets individual, personalized instruction to keep you going faster, and higher, as your skill level grows.
All riders must meet the age & weight requirements of 13 years old, and 100-300 lbs. Please read our terms & conditions.
What to Know Before You Go
in Please Arrive Prepared
Please arrive fully prepared to enter the water. There are no restrooms at our dock. There is a red building to the left of the entrance with changing rooms, showers & restrooms to use on your way in or after your flight. Just look for the red building to the left of the driveway.
Please Arrive On Time
If you arrive 10 minutes past your scheduled time, you may be required to forfeit your flight without a refund.
What you should bring:
Most everything will be provided for you, but you will need swim attire & a towel if desired. For your best comfort, please wear tight fitting shorts during the flight. We don't want you to lose em' in the air! Also, please leave all valuables in your car, we can hold your keys on the Jet Ski!

Age Requirements:
Riders must be 13 years of age. All minors must have a legal guardian present, and remain on site during the activity.
Weight Restrictions:
Participants must weigh at least 100lbs, 300lbs maximum. If you are near our maximum weight, please let us know in advance so we can make proper arrangements.
All participants will also be required to wear a helmet and life jacket. Sizes from S to XXL are available, and the FlyBoard boots fit up to size 12 in men's shoes. If you need further accomodations, please let us know in advance. Call (615) 580-9030 with any questions.
General Safety
– Our Instructors reserve the right to refuse service to anyone under the influence of drugs or alcohol without issuing a refund. Although alcohol is permitted during events, participants must wait until their turn Flyboarding to partake. If your Instructor suspects that you are intoxicated, you will not be permitted to fly, and you will not be refunded. 
– You must be able to swim. You will not be refunded if you can't swim or are afraid of going under water.
– Just be cool. Participants will be given instructions on what to do, and more importantly, what not to do. We want everyone to have a good time and stay safe! But, if your actions endanger yourself, our Instructors or anyone else, the ride will end and you will be asked to leave without a refund.

CANCELLATION POLICY
Severe Weather:
We fly rain or shine! We do not fly in lightning, or high winds that will make it too dangerous. In the case of severe weather, please make sure you can be reached at the contact number provided on your reservation. We will make every attempt to reach you if there is any reason we will be unable to fly. If weather does not permit us to perform as agreed, we have several options available to you. You may receive a credit to return on a different day and reschedule your session, or receive a partial refund for time lost.
If you have concerns about the weather, please call us that morning at (615) 580-9030, or leave the best information for us to reach you for instructions. Please leave a message if we cannot pick up.
The regional storm forecast is highly inaccurate due to the valley that breaks up most storms heading in our direction. In our years of experience, 9 times out of 10, storms predicted days or weeks in advance will not occur, and therefore, will not prevent us from flying.

48 Hour Cancellation Policy:
A 48 Hour Cancellation is required, and must be confirmed verbally or in writing. No refunds will be issued within 48 hours of scheduled flight time, unless due to severe weather (lightning, extremely high winds), or failure on Nashville FlyBoard's part to perform as agreed. You must speak to someone verbally, or receive an email to confirm that your session has been cancelled within 48 hours of scheduled event. Cancellations made within the 48 hour period will be fully refunded.
30 Day Event Cancellation Policy: 
30 Day Cancellation policy for any event. Zero refunds will be issued within 30 days of the event unless due to severe weather (see below). In any event Nashville FlyBoard fails to perform as agreed, you will be fully refunded.
Severe Weather: We fly rain or shine! We do not fly in lightning or dangerously high winds. If Nashville FlyBoard is unable to operate due to severe weather, you will be given a choice to reschedule, or receive a credit as a group or individually. If you are not local to the area to accept the credit offered, you may choose to receive a partial refund if we were not able to operate. We will always do our best to work with you on time and weather issues.
Gift Cards at Nashville FlyBoard
eGift Cards Redeemable for Any Activity at Nashville FlyBoard for Our Summer 2021 Season. You can't go wrong with the gift of Flight!
JetPack by ZR® at Percy Priest Lake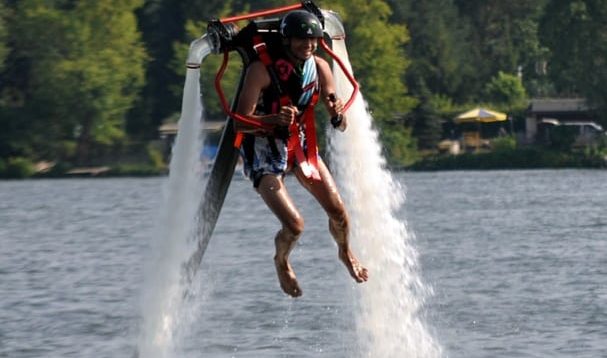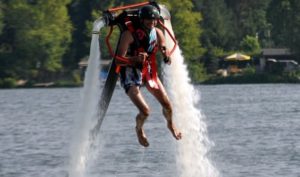 More About the JetPack
Try the new Jetpack by ZR®! A very different ride from the FlyBoard. You'll learn to maneuver the JetPack in the water, and then we'll take you up to soaring heights! We'll give you a short intro lesson, then you'll be strapped in by Zapata's state of the art five point harness. Our Certified Instructors will teach you everything you need to know to get soaring on the JetPack. Includes a 10-15 minute intro, 40 full minutes of flight time, Certified Instructor, Jet Ski, Fuel and all Safety Gear.
FlyBoard Combo Rental with the JetPack or Hoverboard by ZR®!
Choose Your Flight! Includes 30 minutes on the FlyBoard® & choice of JetPack or Hoverboard.


Hoverboard by ZR® at Percy Priest Lake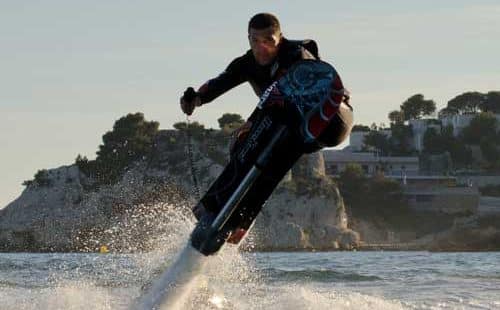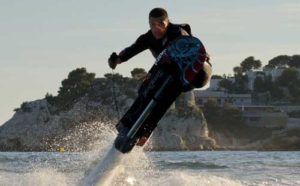 More About the Hoverboard
The Hoverboard is best described as a blend of Surfing, Snowboarding, and FlyBoarding – but the thrill is incomparable! You'll learn to power surf through the water, then lift your lead leg for an intense thrill and rush at radical speeds! This is a more extreme experience than the FlyBoard®, and a sports background will help you out on this one.
ACCEPTING EVENT REQUESTS & SCHEDULING FOR SUMMER 2021! MORE ABOUT EVENT PACKAGES COMING SOON. CALL (615) 580-9030 TO BOOK TODAY!
Plan Your Bachelor Party, Birthday, or Corporate Event at Nashville FlyBoard! 
Nashville FlyBoard has served hundreds of Bachelor Parties, and all agree, an event at Nashville FlyBoard is one of the funnest things they've experienced while in Nashville! There's no better way to revive your group after a long night on Broadway than getting your adrenaline pumping on the FlyBoard, and cooling off in Percy Priest Lake!
We offer a private, park like setting for your party, and provide grills, swimming, rafts, tables & tents, etc. All safety equipment is provided, and each person will receive one on one Instruction, as well as a group intro on the basics. Each person in your group will learn to Flyboard very quickly, and have approx. 25-30 minutes of flight time with our group package deals.
Our crews operate two FlyBoards for larger groups, so most parties spend no more than 2-3 hours at the lake, and everyone gets to Fly! BYOB and food. We only ask your group drink responsibly, and all must refrain from alcohol prior to Flyboarding. 
 Inquire About Your Nashville Event at Nashville FlyBoard
Nashville FlyBoard Event Inquiry
More About Groups & Event Rentals
Call (615) 580-9030 to Book Groups or Events for Any Location.
Experience  FlyBoard® with a group or party at the lake of your choice! Add the JetPack, or Hoverboard by ZR® for our combo rental packages!
Private Lakeside Location for Your Nashville Event

Take a break from Broadway where you'll still have maximum entertainment, and time to regroup with an awesome day on the lake! Celebrate your Bachelor Party, Birthdays, Reunions, Corporate Events or any other event at our Private dock inside Nashville Shores, just 20 minutes from downtown. Alcohol is permitted in the area, but must be in cups, and kept in very low key. No drinking will be permitted prior to your flight!! If you are intoxicated, you will not be allowed to fly, and will not receive a refund. Please drink responsibly.
Private Lakeside Location for your group 15-20 minutes from Downtown Nashville

Group packages range from 2 hours to a full weekend, or consecutive weekdays

All group sessions Include one on one instruction for everyone in your group by our Master & Certified Instructors

All equipment will be provided

More Options for Your Group
Additional Units (FlyBoard / Jet Ski / Instructor) may be added to any group, which will allow your group to fly 2 Flyboards at once. Additional units for smaller groups will require an added fee.

Choose Your Location, or make a special request. Nashville FlyBoard serves all lakes in the Mid TN & Upper Cumberland Region. Our pros are equipped to come to you at any of these locations with all the equipment your group will need for a day of FlyBoarding. We'll meet you at your boat, lake house, or private property. You don't need a boat, we can meet you at recreational areas on all of the lakes we serve! Some locations will require a minimum half to full day rental.

Combo Rental Packages are available for groups & events. This will allow your group to try the FlyBoard and choice of the JetPack or Hoverboard by ZR®. Combo Rental packages with the JetPack require a full day rental. Groups may add the Hoverboard for half day packages.


GoPro Package – Our crew will capture everyone in your group on our helmet cams! We'll transfer your video to a Flash Drive, and leave it with you at the end of the day.
Click Here for more information on our safety requirements & Cancellation Policy, including Severe Weather.
Visit our Official Zapata Flight Center Located in Nashville Shores & Cap'n Dave's Water Sports
BY APPOINTMENT ONLY!
Lakeside Adventure Park Inside Nashville Shores!
If you're in Nashville, come visit us at our private lakeside Flyboard haven inside Nashville Shores at Cap'n Dave's Water Sports. Just 15 minutes from downtown Nashville, and 5 minutes from the airport, it's a water sports lover's dream! Bring the whole family ages 13 & up to Nashville FlyBoard where you can rent any Flyboard, Hoverboard, or JetPack by ZR®! Go next door to Cap'n Dave's where you can rent Waverunners, SUP's, Kayaks, and more!
Follow Nashville FlyBoard
Follow Nashville Flyboard on Facebook, Instagram & Twitter to learn about our special events at other lakes too!
Nashville FlyBoard is Practicing All Recommended Procedures to Keep Our Employees & Customers Protected From COVID-19. Learn More
All Sessions Are By Appointment Only. Book Online or Call (615) 580-9030 For Same Day Availability
Fly Or It's Free Guarantee:
If you do not learn to Flyboard within your 30 minute session, you don't pay! Most people are Flyboarding in the first five minutes after learning the basics. Terms & Conditions Apply – you must know how to swim! Excluded: people with recent surgeries, knee or ankle problems, other health problems, inability to swim, fear of water or heights, English as a second language which prevents understanding of lesson.
Nashville FlyBoard Locations